Smyrna Local Incentives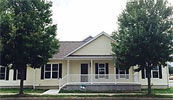 Revolving Loan Fund
Funding for loan pool from Rural Economic Development Loan/Grant program.
Discounts of Electric Utility Charges for Qualifying Projects
Metered electric utility charges are discounted by 50% for six months for qualifying projects.
Impact Fees
Full waiver of impact fees (sewer and water, storm drainage, street lights, signage, street maintenance, police protection, code enforcement, and general administrative).
Cap on Permit Fees for Qualifying Projects
Sliding scale permit fee caps for qualifying projects (cap of $1,129).
Waiver of Town Taxes, Charges and Fees
Council may waive property taxes, impact fees, permit fees and/or monthly metered electric utility charge.
Technical Assistance
Business consulting services made available by the Town to businesses.
Adoption of a Vacancy Treatment
Town will assist in finding tenants and/or applying attractive vacancy treatment to "reactivate" space.
Facade Improvement Matching Grant Program
Matching grant for facade improvements. Grants capped at $5,000.
Website: Town of Smyrna

Phone: (302) 653-3486